Our office proudly recommends the following products. Please contact or visit our office to purchase any of these products.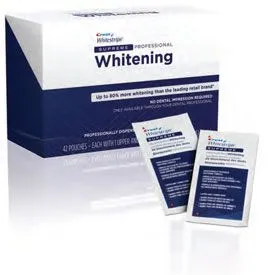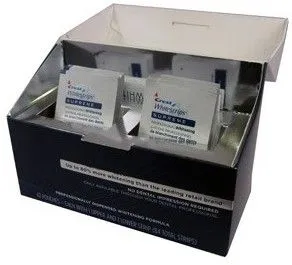 Professional Crest® Whitestrips® Supreme
4X Stronger than Over the Counter Crest White Strips
The #1 recommended brand of whitening system among US dental professionals
Affordable
- Compare and save: Crest Whitestrips Supreme provides professional whitening without the higher costs of other professional whiteners
Convenient
- No dental impressions required
- Strips are ready-made so you can use them right away
- At home or on the road, strips are portable enough to be used anywhere, at any time during the day
Safe
- Strips have gel already added to them so they deliver a consistent, controlled dose each time
- Strips do not have to be loaded before every use, unlike trays, which can cause oral irritation if too much gel is added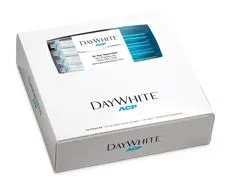 DayWhite® ACP
DayWhite ACP Bleaching Gel with short daily wear protocols, is ideal for patients who do not have time to do In-Office Whitening. DayWhite ACP combines Discus Dentals exclusive use of amorphous calcium phosphate (ACP), potassium nitrate and fluoride to help reduce sensitivity, rebuild enamel, add luster and reduce fadeback.
Available in 7.5% HP and 9.5% HP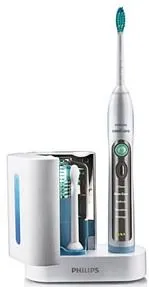 Sonicare FlexCare+ Toothbrush with Sanitizer
FlexCare+ is specifically designed to motivate patients to achieve consistency with their home brushing habits. It offers advanced features including a new gum care mode that help make it easier for patients to brush longer. By encouraging patients to be more thorough at home, they'll experience an invigorating clean while you see the improved oral health results.
Sonicare's patented sonic technology is proven to be powerfully effective, yet remarkably gentle.
It generates high amplitude and high frequency bristle motion, creating dynamic cleaning action that drives fluid forces deep into interproximal spaces and along the gum line. The result is a superior clean that you can see and can feel.
Sonicare believes in innovative technologies and products designed around the people who use them. We're continually improving the products we make by talking with dental professionals and consumers and listening to what they have to say. Our most recent advances are reflected in Sonicare's current line of power toothbrushes and brush heads.

Sonicare for Kids
There's finally a Sonicare specifically designed to help kids build healthy brushing habits for life. With its kid-friendly features and clinically proven results, Sonicare For Kids helps parents teach their children to brush -- supporting the transition from brushing together to brushing alone. It's finally true that for children learning to brush, there is a Sonicare waiting to help them.